Springwater Sports Heritage
2018 Inductees Announced
Posted on May 11, 2018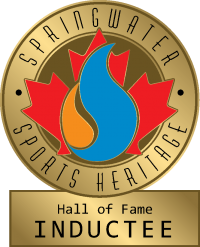 Extraordinary Athletes, Builders and Teams to be Inducted.
At the third biennial Springwater Sports Heritage Hall of Fame Induction three Athletes, three Builders and three Teams will ceremoniously be welcomed into the Hall. They will join with previously inducted and equally remarkable Inductees.
"We are extremely excited to be Inducting another outstanding assembly of Hall of Fame inductees" said Induction Committee Chairperson, Darrin Robertson. "The selection was again incredibly challenging but tremendously rewarding."
On September 14th the new Inductees will join their fellow Alumni Inductees, officials and sport enthusiasts at the Barrie Country Club. The capacity crowd will enjoy an amazing evening of comradeship and celebration.
2018 INDUCTEES
SPRINGWATER SPORTS HERITAGE HALL OF FAME

ATHLETES

BUILDERS

TEAMS

Homer Barrett
Hockey/Fastball
(Posthumously)

John Brown
(Posthumously)

1982 Elmvale Angels
Ladies Softball Team

Frankie Edgecombe
Ball Hockey/Volleyball/Hockey

Harold McMaster

1976/77 Dutcher & Corbett Elmvale Peewee Hockey Team

Tom VanNatter
Hockey

Don Stoddart

1950 Minesing Softball Team
Recent News

Induction Tickets
Aug 22, 2022

Mike Stone
Aug 9, 2022

Mike Stone Passes
Aug 8, 2022
---