Springwater Sports Heritage
2021 Inductees Announced
Posted on September 5, 2021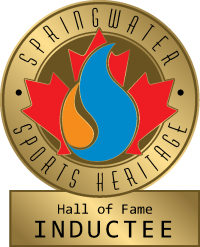 Exceptional Athletes, Builders and Teams to be inducted into Springwater Sports Heritage Hall of Fame.
Springwater Sports Heritage Board recently concluded its
evaluation process of the numerous and exceptional
2021 Nominations received.
For this the fourth Springwater Sports Heritage Hall of Fame biennial Induction four Athletes, three Builders and two Teams will ceremoniously be welcomed into the Hall. They will join with the previously inducted and equally remarkable Inductees.
Darrin Robertson, Induction Committee Chairperson, said "The board is delighted to announce the exceptional 2021 Inductees. Achieving a desirable balance between the number of remarkable nominations we received this time around and the quota guidelines was a challenging assignment".
In the Spring or Fall of 2022, if COVID19 restrictions allow, the new Inductees will join
their fellow Inductees, officials and sport enthusiasts in the Springwater Sports Heritage
Hall of Fame. It is expected that over 200 people will be in attendance for a wonderful
evening of comradeship, ceremony and celebration.ws.

2021 INDUCTEES
SPRINGWATER SPORTS HERITAGE HALL OF FAME


ATHLETES


BUILDERS


TEAMS


Sarah Burke
Skiing

Frank Archer


1954/55 Elmvale Comets
Women's Softball Team


Adam Dixon
Sledge Hockey


Elmvale and District
Lions Club


1974/75 Minesing OASA
Fastball Team


Alanna Kovacs
Track and Field


Allan & Laura
McNabb


Alexandra Paul
Figure Skating
More information on the ceremony and tickets will be available when the date of the ceremony is announced. Visit www.springwatersportsheritage.ca for updates and ongoing developments.
Recent News

Andy Copeland's Passing
Nov 10, 2023

2023,11,6 Board Meeting Minutes
Nov 9, 2023

Corby Adams Passing
Oct 24, 2023
---