1977 Elmvale Merchants Men's Fastball Championship Team
---
Induction Award:
In 1977 on a cold and wet Thanksgiving weekend, this team Elmvale became the first and only men's team to win an Ontario Amateur Softball Championship. They traveled to Hearst, Ontario to play the Northern Ontario Champs and won the best-of-three championship 2 games to 1.
Front: Doug McMann, Carl Edwards, Garry Turner, Lou Belcourt, Paul Marley, Keith Williams Middle: John Brown, Danny Rowat, Bill Williams, Doug Barnes, Ken Archer, Brian Handy, Chuck Jordan, Paul Rowat (Coach), Back: Mike Townes, Don Ritchie, Lou Turner, Bill McClung, Don Fleming, Den Turner.
Member Details:
Category: Team
Induction Year: 2014
Nominator: Lou Belcourt
Sport(s): Fastball
Association: Ontario Amateur Softball Association (O.A.S.A.)
Category: Intermediate "C"
Team Name: Elmvale Merchants
Achievement(s): Ontario Provincial Champions
Year(s) of Achievement(s): 1977
Highlights
Barrie Intermediate League Champions for four consecutive years
1977 Winner of their Zone (Runner-up Huntsville)
1977 Defeated other Southern Ontario Zone Winners: Meaford; Teeswater; Verona; and Caledonia
1977 Acclaimed Southern Ontario Champions
1977 Defeated Hearst the Northern Ontario Champions

1977 Acclaimed Ontario Provincial Champions
Narrative
Southern Ont. was divided into regions or zones. To become the eventual winner a team must win their own zone and then defeat the other zone winners in a best of three series. ...more narrative
Media:
Links:
Ontario Amateur Softball Association
Acknowledgements:
Springwater Sports Heritage would like to express its appreciation for the significant contribution by Lou Belcourt for his support in preparing the material for this Team Inductee.
Back to Hall of Fame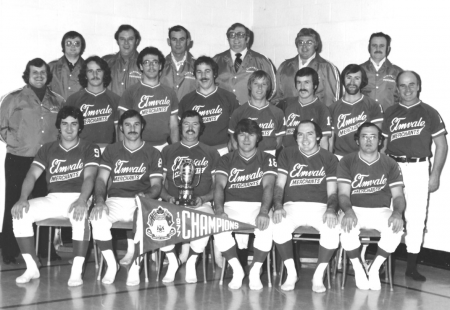 Ceremony Video: