1976/77 Dutcher & Corbett Elmvale Peewee Hockey Team
---
Induction Award
This Minor Hockey team has been the only Elmvale team to win an International Silver Stick Championship. They were the smallest centre in their Division in Port Huron, Michigan. The team went undefeated in the Georgian Bay League that year playing larger centres and they were also All Ontario Finalists. Several members of this team went on to play at the Junior "C" "B" and "A" levels.
Back (L-R): Brian Swan - Manager, Ed Robertson - Trainer, David Trace, Reg Kenwell, Ken Graham. Middle: Kevin Swan, Jim Clement, Glenn Jones, Dean Robertson, Ross McConnell – Coach. Front: Kevin Steele, Murray Frankcom, Glenn Downey, Brian Norwood, Tom VanNatter, Al Melnyk, Brad Young, Duane Janes.
Member Details
Category: Teams
Induction Year: 2018
Sport: Hockey
Nominator: Darrin Robertson
Association: Ontario Minor Hockey Association (OMHA)
Category: Peewee "C"
Team Name: Dutcher & Corbett Elmvale Peewee
Highlights:
1976
♦ December - Regional Silver Stick Champions, Wasaga Beach, Ontario
1977
♦ January - International Silver Stick Champions – Port Huron Michigan
♦ January - Ayr Tournament Champions – Ayr, Ontario
♦ March - Georgian Bay League Champions
♦ April - OMHA All-Ontario Finalists
Narrative:
The Elmvale Dutcher and Corbett 1976-1977 Peewee team ...more narrative
Quotes:
"These youngsters from Elmvale took nightmares with them to Port Huron and brought dreams back with them" Peter Mills – Sports Editor of the Midland Free Press
Acknowlegement:
Springwater Sports Heritage would like to express its gratitude to Darrin Robertson and Ross McConnell for their work in preparing and coordinating the material for the website.
Back to Hall of Fame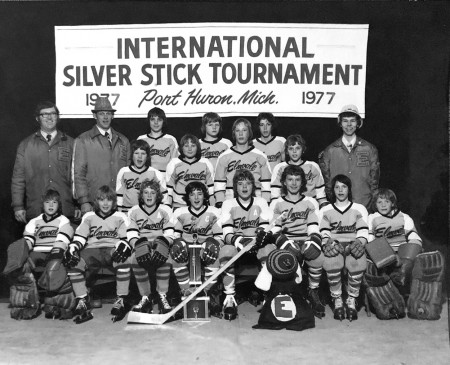 Ceremony Video: